Mikołaj Kopernik High School, as an institution, was established to educate and bring up teenagers.
Our school has a very long tradition. Coming up to students' and parents' expectations, as well as the needs of present life, it provides high quality of teaching and extended levels of the most popular subjects. Nowadays the school offers many interesting and new profiles.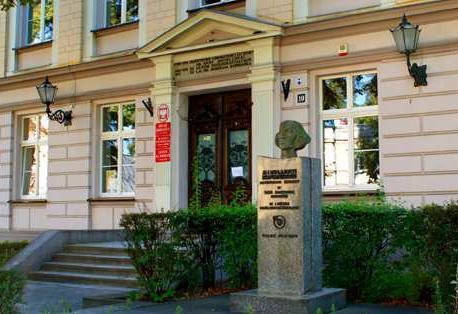 We can boast of having classes with various core subjects. After spending three years in our school students are prepared for taking the final exams.
You can choose from the following class profiles: Mathematics and Information Technology; Mathematics and Physics with Astronomy; Polish, History and Social Studies; Polish and English; Biology and Chemistry; Mathematics and Geography.
Learning selected subjects at the extended level opens the door to continuing education at the best universities. There is an opportunity to study e.g. Medicine, Law, Economy, Marketing and Management, Psychology, Architecture or Engineering. On each profile there is also a possibility of learning two of the following languages: English, German, French, Spanish or Russian.
After classes students can develop their talents and passions by participating in various extracurricular activities:
" Copernicus Choir " − established in 1997. So far, the choir has won many national music competitions and has recorded one CD. It gave concerts in Germany and Italy a few years ago.

" Jagiellonki Dance " − a famous dancing group.
School workshops in Physics, Biology, Mathematics, Chemistry, English during which students can extend their knowledge of these subjects.
European Club " Młoda Europa" − for students, who are interested in political and social issues.
Extra Physical Education classes.
" Niby Nic Theatre Group " − for those who love acting, challenge and being in the spotlight.
" Polish Red Cross " − students who are fond of helping the poor and those in need can join this club.
" Metafora Club " − for lovers of literature and poetry.
Mikołaj Kopernik High School has raised the generations of intelligentsia and has also been honoured with the titles such as " First Rank School " by the President of Kalisz and "High Quality School".
Our school evolves into the spirit of the 21stcentury and gets spiritually younger with age.
Every year it says goodbye to graduates who get into their dream college without any problem.
Agata Kania, Jacek Kasprzak, Jakub Ciesielski, Krzysztof Szynkarek